Function Innovation, Better user experience.
THL600 custom material curve function
Due to the different alloy ratios of alloy materials or due to special hot and cold processing
techniques, the elastic modulus of some metal materials is different from that of the same kind of
ordinary materials, which results in the testing of such materials, whether it is the national
standard conversion table or the European standard. The conversion table cannot accurately
convert the different hardness systems. The function of the custom material curve provides a
means to adjust the conversion table according to the actual situation, which is conducive to
expanding the applicability and accuracy of the instrument product.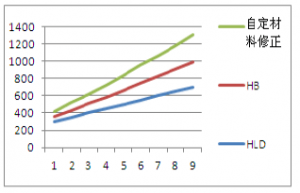 Copper aluminum alloy material
More Highlights
Color display of 3inch screen showing all functions and parameters.
Converts to all common hardness scales (HV,HB, HRC,HRB,HRA,HS).
English displaying and easy and convenient menu operation.
Powerful PC Software available and USB 2.0 interface & with the USB Protective Membrane.
7 types of Impact Device optional, which don't need to be recalibrated when changing them.
Memory of 1200 groups data

(

impact times:32

~

1

)

.

Lower limit setting and sound alarm.
Material of "cast steel" is added; HB values can be read out directly when D/DC impact device is used to measure "cast steel" work piece.
Printer be separated from main unit and copies of testing results can be printed as required.
AA battery can easy change and transport.
Inbuilt function of Software Calibration.
With user-defined material curve function, for special materials such as forged steel, rolled steel, alloy steel or special processing metal materials, users can customize the measurement curve according to the actual measurement.
THL600 with auto direction can make test easy.
For detailed specification, please click the PRODUCTS catalog.